TDI has just finished designing a revolutionary concept for a fully autonomous, battery-powered road transport vehicle – as our part of the Mott MacDonald-led consortium for the Cambridge Autonomous Metro (CAM). Alongside two other groups, the challenge was to design a sustainable and innovative public transport solution to operate as a flexible conduit between the city, towns and outlying suburbs within Cambridgeshire.
Darren Smith, TDI Managing Director, commented: "This was a fantastic opportunity to showcase our design capabilities on tyres, complementing our work in rail, including aspects such as lightweight construction, localised manufacturing centres, autonomous control and very fast charging. I am extremely proud of the concept the design team has been able to create within a very short space of time."
As part of the Mott MacDonald consortium, TDI has had the pleasure of collaborating with industry leaders Maynard Design Consultancy, MTR Corporation (UK & Europe) and Podaris.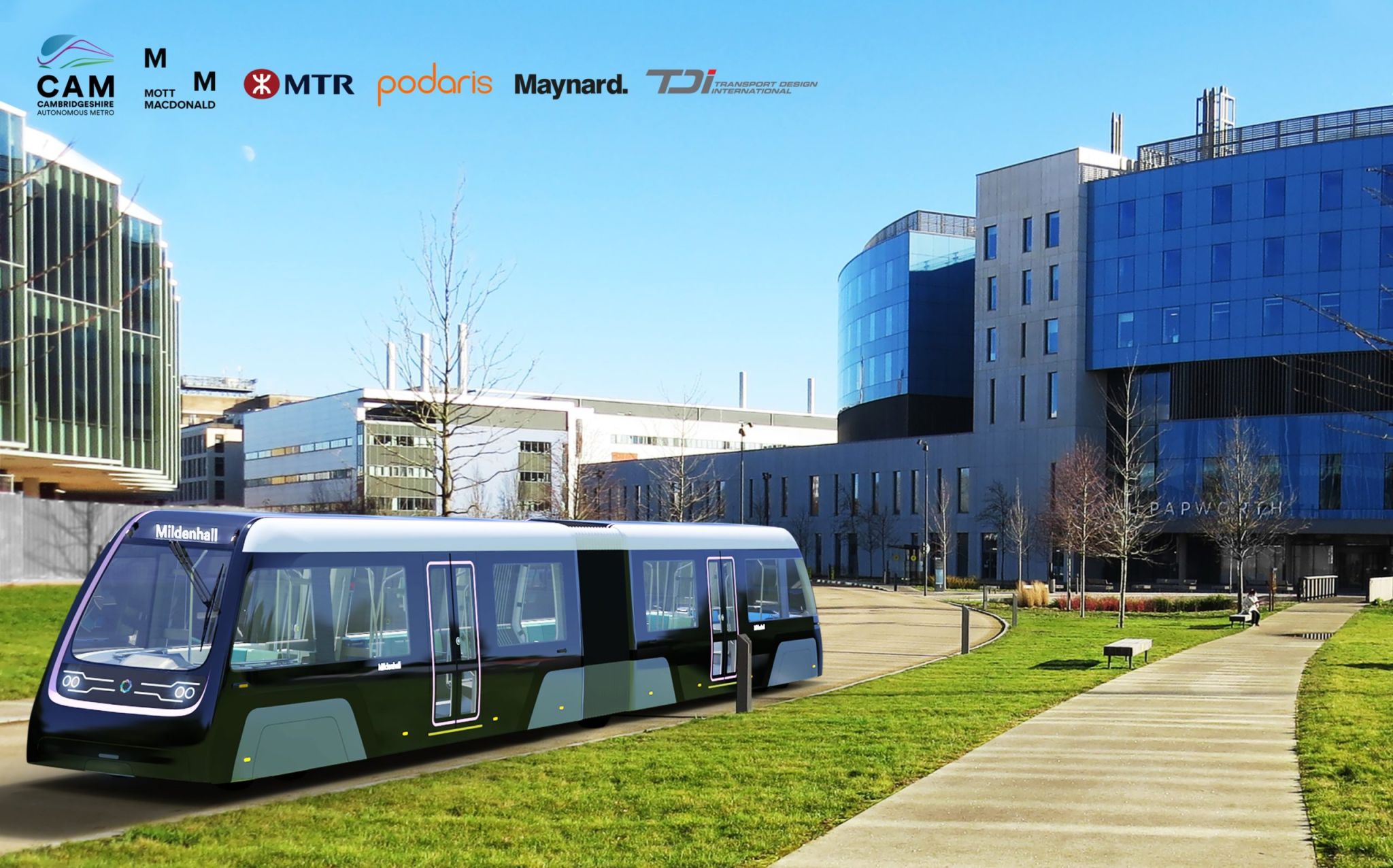 Our transformational design features:
Bi-directional driving and all-wheel steer for high manoeuvrability and lower tunnel costs
High passenger capacity and comfortable, spacious interior with wifi, security cameras and airborne virus countermeasures
Fully autonomous potential integrated with centralised fleet orchestration
Veryfast charging and very safe batteries for continuous operation and safe use in tunnels
A low centre of gravity for comfort over long distances
Manufacturing and maintenance in the locality i.e. Cambridgeshire
Mayor of Cambridge and Peterborough James Palmer said: "High-quality infrastructure is expensive. The welcome upgrade of 21 miles of the A14 between Huntingdon and Cambridge cost £1.5 billion. By comparison, CAM will offer about 90 miles of high quality, regionwide public transport and at a potential cost of nearer £2 billion, according to some of these designs. That, alongside the cost to the economy of failing to act on putting in the right infrastructure, is another reason why the case for CAM is compelling."
Designs: https://cam-metro.co.uk/wp-content/uploads/2021/03/Mott-MacDonald-CAM-Concept.pdf
Press pack: https://cam-metro.co.uk/conceptual-designs-press-pack/?cn-reloaded=1
Read more: https://www.mottmac.com/releases/mott-macdonald-cambridgeshire-autonomous-metro-concept-design-revealed