Eversholt Rail and Transport Design International are delighted to announce the launch of the Revolution Very Light Rail (RVLR) Demonstrator vehicle at Ironbridge today.
The RVLR programme was born out of a challenge set by the Rail Safety and Standards Board (RSSB) and the Department for Transport to provide an attractive, low-cost rolling stock solution that will encourage modal shift to rail, supporting better services on branch lines and facilitating the reopening of disused railway lines as well as network extensions.
The Revolution VLR Demonstrator vehicle will be showcased at our purpose-built marketing facility at Ironbridge, where stakeholders and potential sponsors can understand the design journey and then experience the Revolution VLR in a representative line reopening context.  Eversholt Rail and Transport Design International have worked closely with Harworth Developments over the past 6 months to develop the Ironbridge demonstration site.  The speed with which the passenger line, unused since 1963, has been recommissioned and the necessary buildings, platform and other infrastructure features installed illustrates how rapidly a reopening can be implemented when all stakeholders are aligned and committed.
Since its launch in 2014, the project has involved 7 consortium companies from the automotive, rail and other sectors working in partnership to combine their experience and expertise to realise this first-of-a-kind Demonstrator vehicle.  The RVLR Demonstrator is truly a transport solution for the future, delivering on the Government's decarbonisation goals and supporting the Williams-Shapps Plan for Rail in the UK.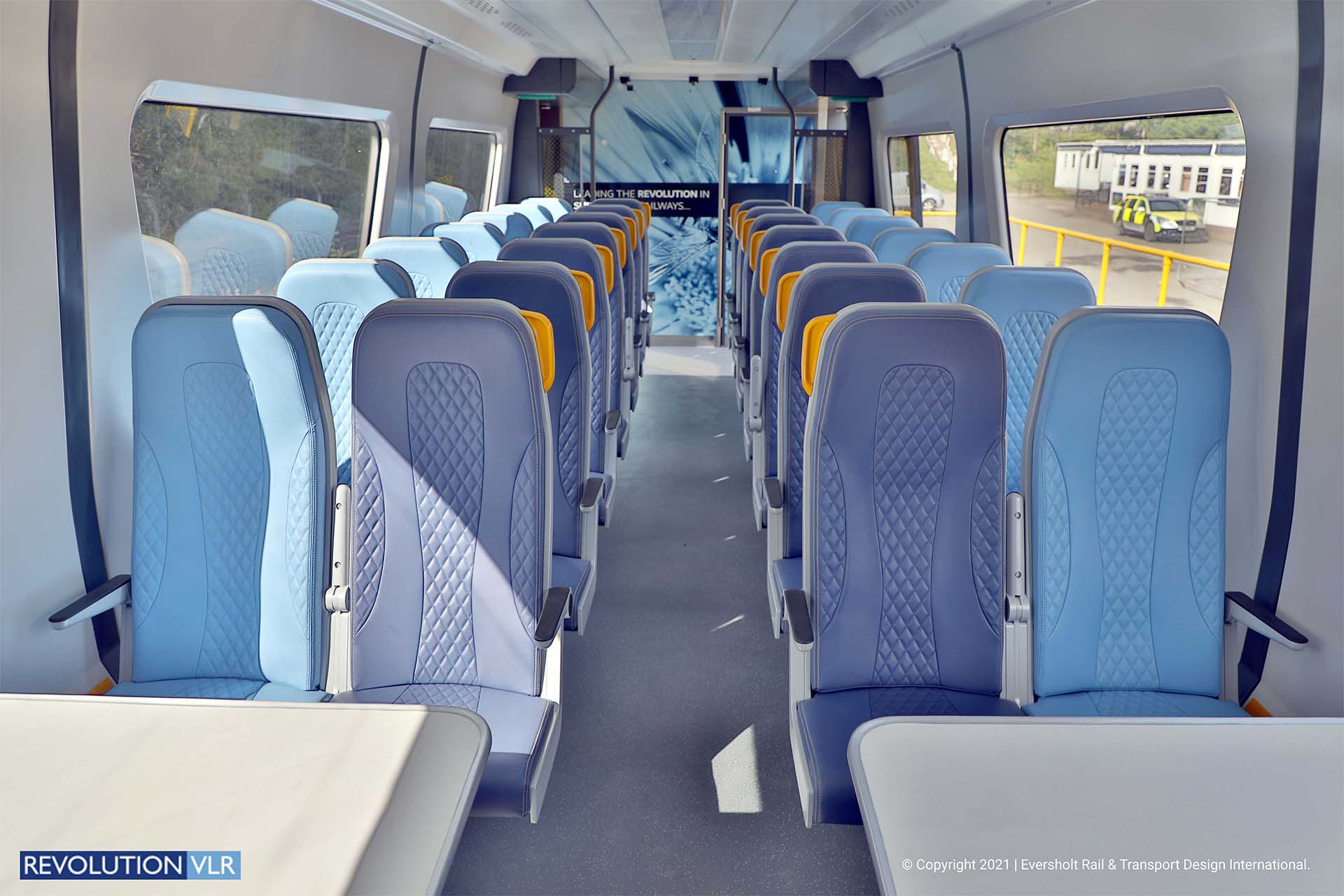 The RVLR Demonstrator is equipped with hybrid diesel-electric powerpacks, providing zero-emissions operations and low noise running in stations and built-up areas and at speeds up to 20mph. These use a 2.8 litre turbocharged Cummins common rail diesel engine with Euro 6 emissions standards in its road applications, the first time a Euro 6 engine has been used in a rail application.  In Demonstrator configuration RVLR is capable of speeds up to 65mph.   The powerpack/battery mix can be adapted to suit specific operations.
Light weighting is fundamental to minimising costs and ensuring economic sustainability.  In Demonstrator configuration the RVLR has a mass of 24.8 tonnes, a saving of nearly 40% compared with a single-car self-powered heavy rail vehicle of similar capacity.  The lighter the vehicle, the less energy it requires to propel it and the less wear it causes to the track.  As well as operating on existing rail infrastructure RVLR's low mass enables it to operate on light weight modular slab track that is less costly to acquire, install and maintain than traditional heavy rail infrastructure.
Modularity is another key feature of the vehicle design, so that in service operations the vehicles can be easily maintained and supported without the need for costly bespoke facilities, special tools and test equipment, a significant benefit for rail operators.
Darren Smith, Head of Transport Design International.  
"The modular design of Revolution VLR facilitates the rapid and cost-effective development of different internal layouts to suit customers' specific needs, together with variants tailored to specific roles, such as a freight version with dedicated loading and offloading doors."
Paul Sutherland, Client Services Director at Eversholt Rail.
"Eversholt Rail has a proud record of investment in innovative rolling stock programmes, and we are delighted to have played an active role in the RVLR programme since 2018. We believe that RVLR's characteristics and cost-effectiveness will really assist the business cases for rail line reopenings and extensions across the UK."
Chris Heaton-Harris, the Rail Minister:
"VLR is new technology that offers a glimpse into the railways of the future. This low cost, low emission transport might be the sort of thing you see in your town in years to come.
"Our funding is supporting innovation and new technology, helping create the transport network of tomorrow."
Tim Hurdiss, Associate Director – Major Projects, Harworth Group
'We're delighted to be working with TDI and Eversholt Rail to bring Revolution VLR to our Ironbridge site, where we are transforming the former Ironbridge Power Station into a mixed-use development of up to 1,000 homes, alongside a range of commercial, leisure and community uses. Together we are exploring the possibilities of how the former sidings and freight line could be brought back into use, opening up the prospect of passengers one day being able to arrive at Ironbridge by rail.'
Media Enquiries to
Nicola Islef, TDI
Email: nicola@boxclever.digital
Wendy Allington, Eversholt Rail